The plan of the new theater: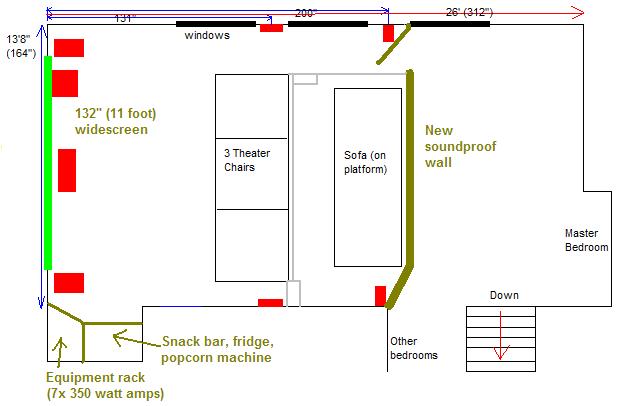 The heart of the theater -- the Emotiva pre-amplifier, and amp chassis which contains 7 dedicated amps that put out about 300 watts per channel (it weighs over 120 lbs... and I have a dedicated 20 amp electrical circuit for this puppy!)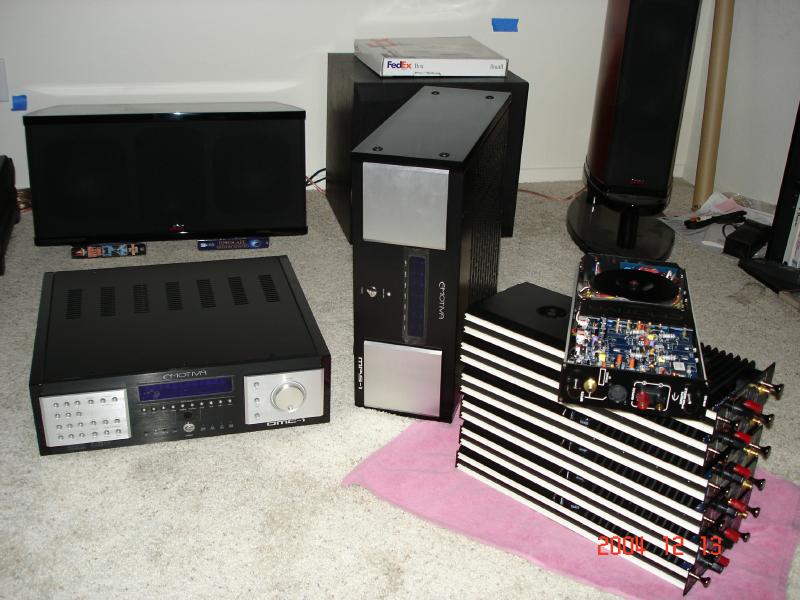 The new theater seats - electric reclining black leather Berkline 099's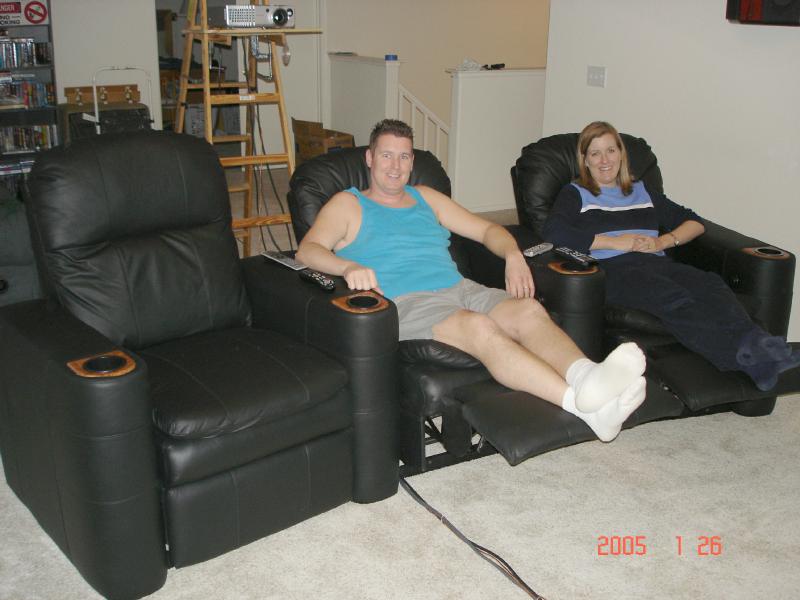 The destruction of the new equipment closet: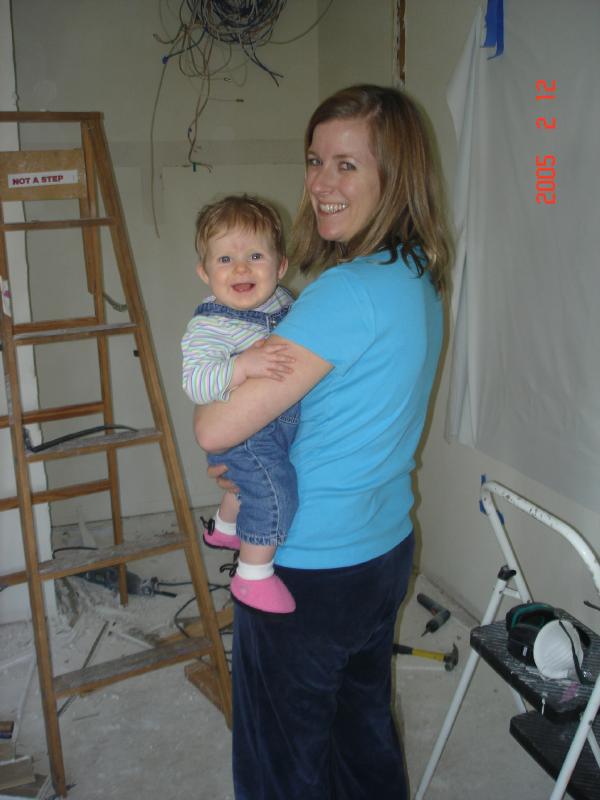 Framing the new rear wall: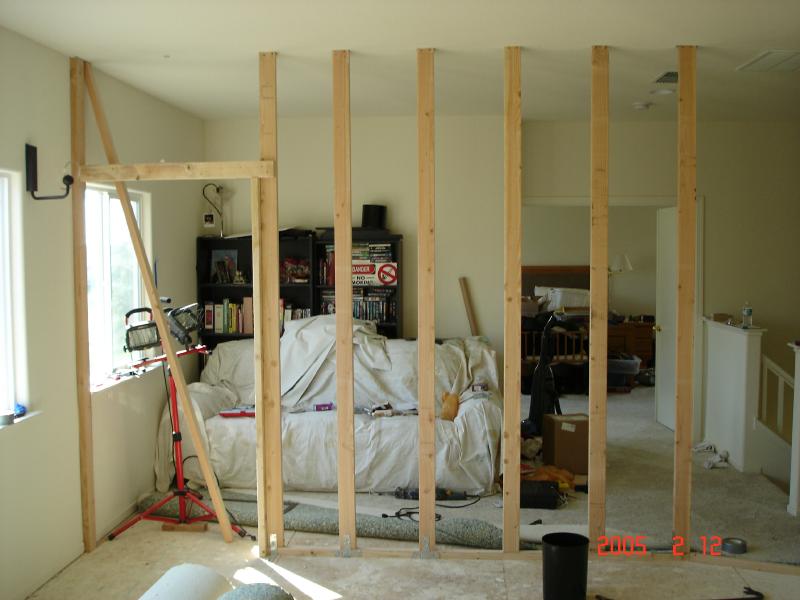 The inside of the rear wall, sheetrocked: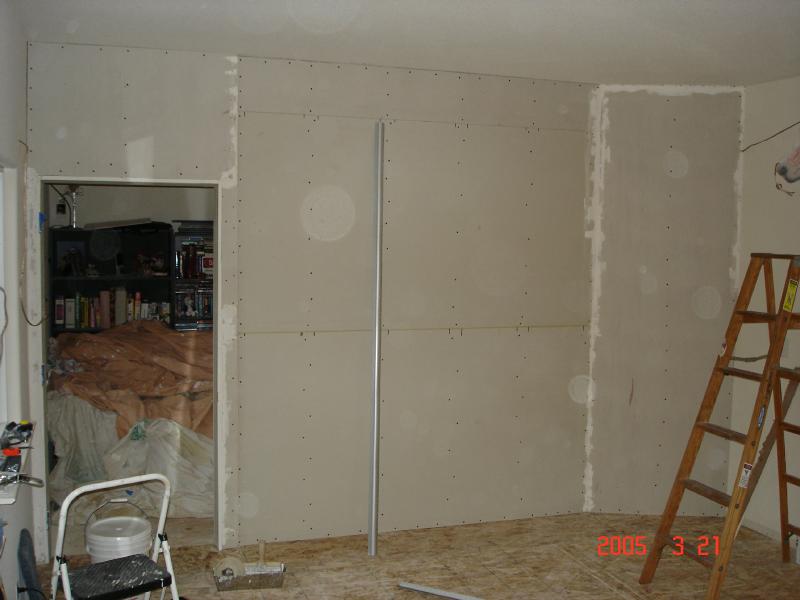 The outside of the rear wall, textured and primed: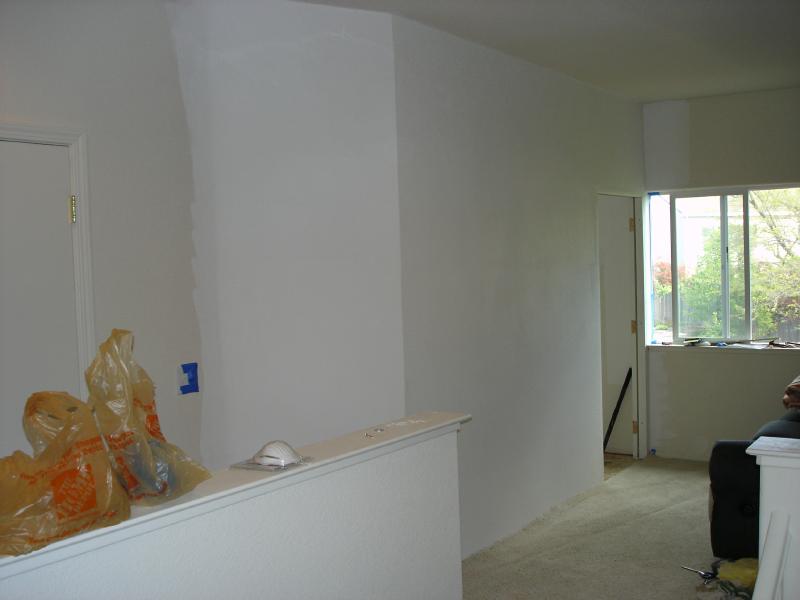 The new equipment & fridge alcove, textured: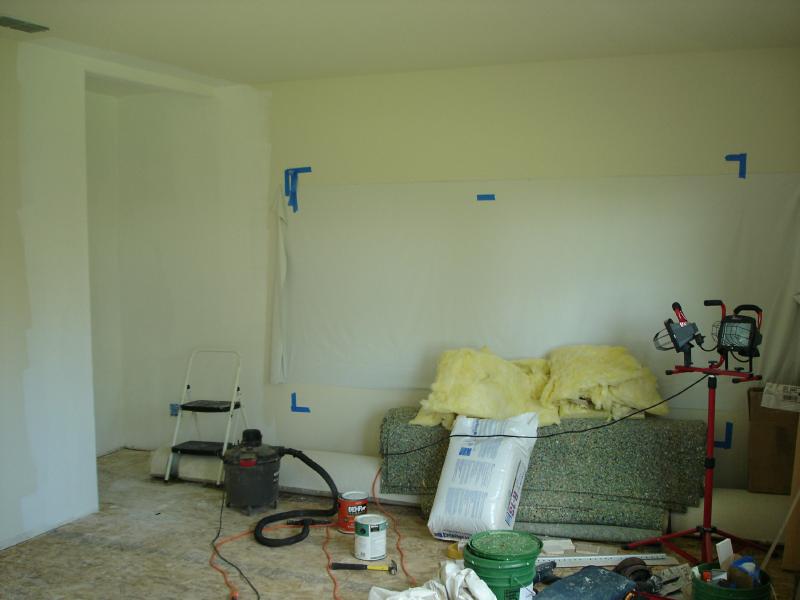 And, the new 18" platform for the dual-reclining sofa (second row seating, it is curved to match the Berklines that will be in front). Room is now painted - charcoal on the lower wall, ceiling, front wall & equipment closet. The upper part of the walls is a "wine" color.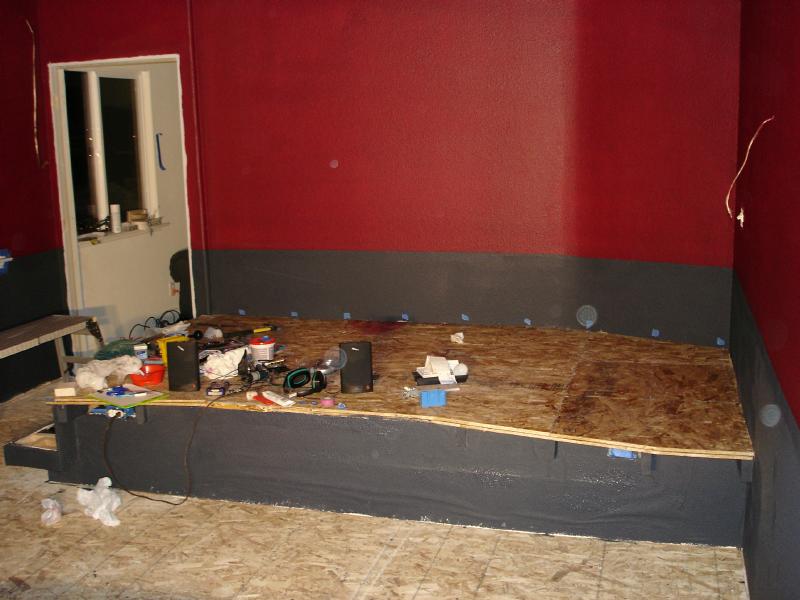 The front right corner, where the DVD rack will go: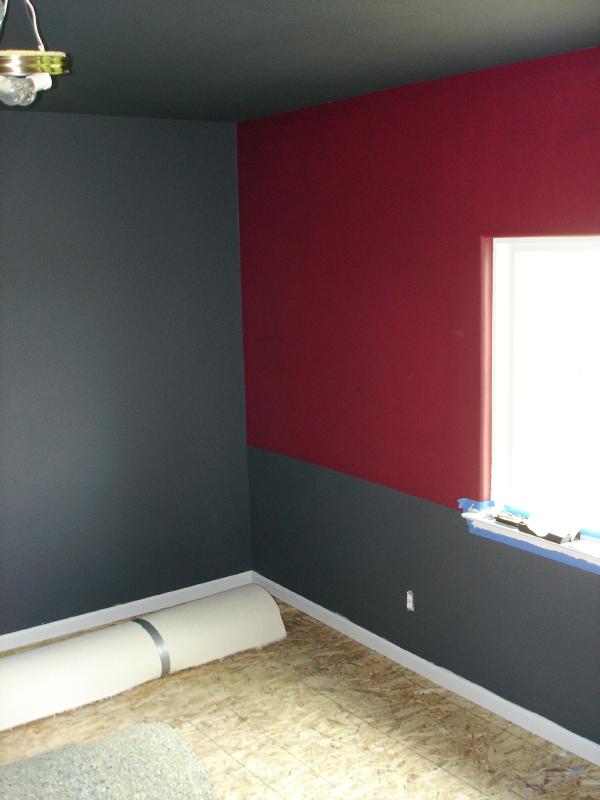 The new equipment alcove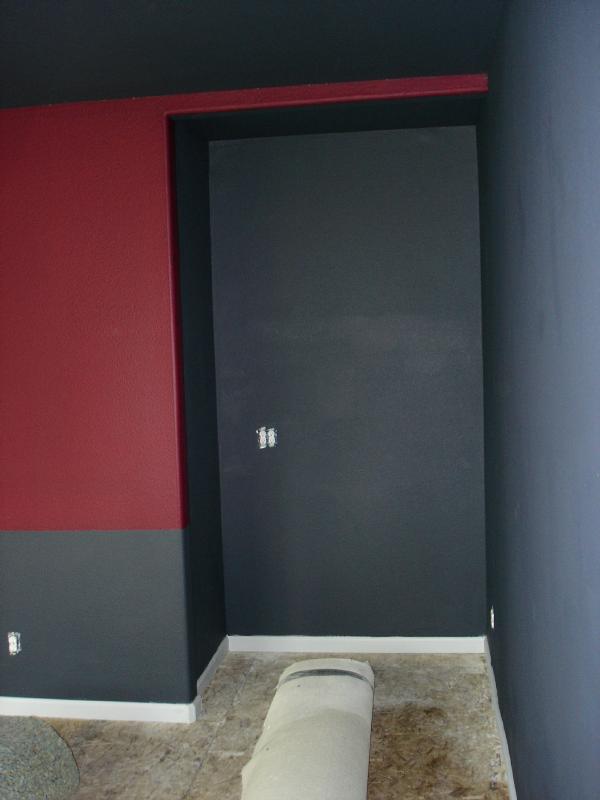 And...
Carpeted, lighting, equipment & seating installed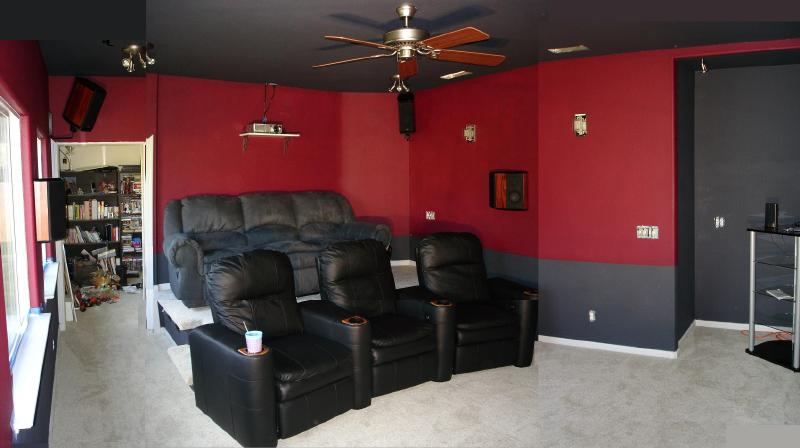 Now -- Curtains are in, door installed! At first, I was not sure what to do -- but in the end, kept coming back to these. In the end, I installed a wall of "fake-leather" curtains over both windows - behind the speaker. These are totally light-blocking, and the valence on top prevents light coming up.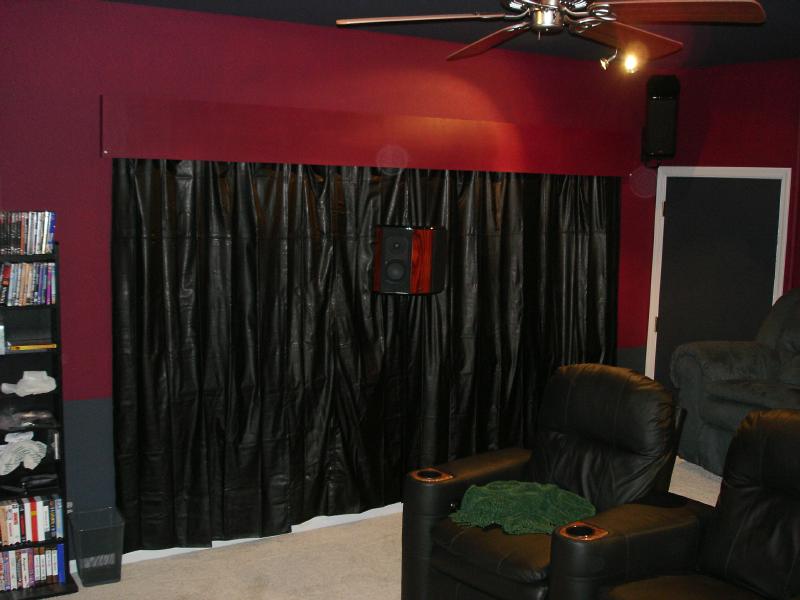 Screen installed, snack shack set up
I ended up going with a 133" DaLite Cinema Vision screen. It was fairly easy to set up.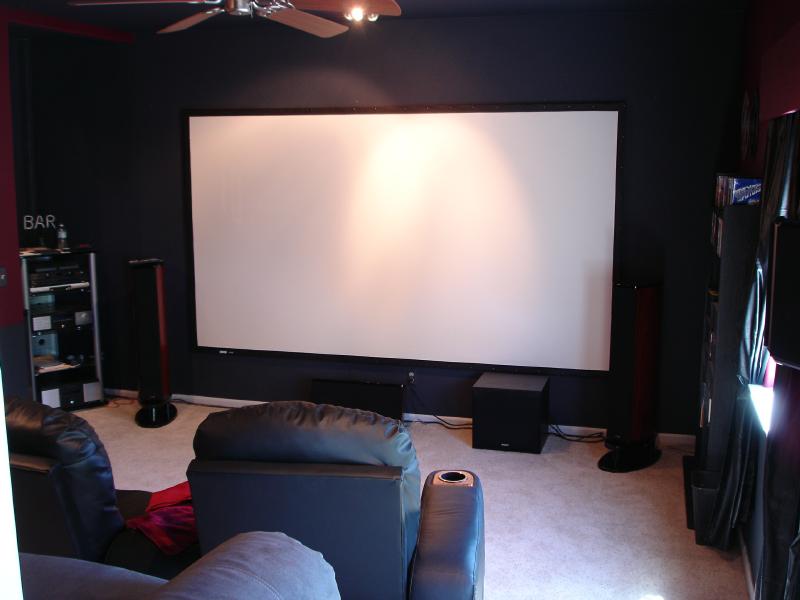 For the snack shack, I bought a stainless steel fridge, stocked full of all sorts of beverages, and snacks on top. It sits right next to my equipment rack in the alcove.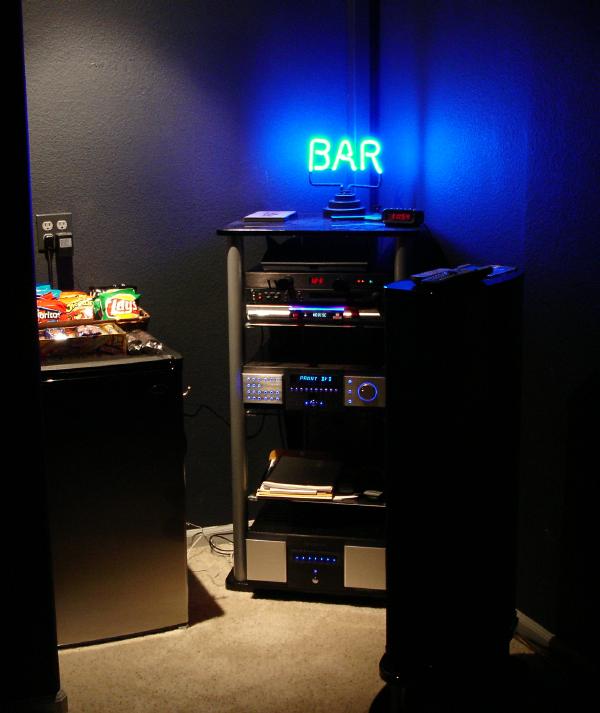 Finally, here is a picture of the main section of the finished theater. The rear platform is about 18" higher than the main floor with a dual-reclining sofa, providing a "stadium-style" seating. This lets even short people easily see over the heads of people in front.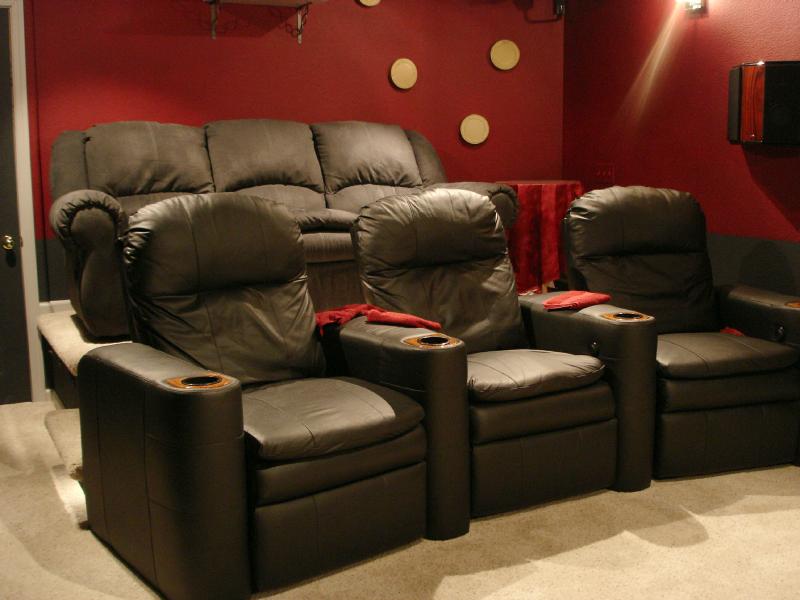 Things left to do eventually:
1) install a silent vent fan above the alcove to draw heat from the room (thereby pulling cooler air in from outside or other rooms).
2) install crown moulding and a chair rail
3) build a custom-sized speaker stand for the center speaker (currently angled up by being propped on a block of wood with a towel!)