What's New?
July 8th...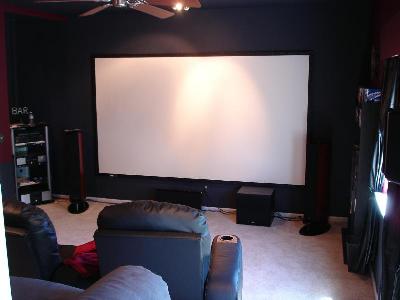 The theater is basically done!  I installed the permanent screen - a 133" DaLite Cinema Vision, set up the "snack shack" fridge, and cleaned up the trim.  The soundproofing is working out quite well - we can watch movies at reference volume while the baby sleeps just 2 rooms away.  The only thing I need to do is ventilate the alcove, as the fridge and equipment generate a fair amount of heat.
I have put together a crude photo album of my new theater construction (click on the link or photo above).  It is finally "almost" there - after a couple of years of dreaming and many countless hours of research... and then building it and changing my mind and making it up as I went along!



big photo

October 18th...
Added a new photo album to Shelby's page... a new collection since the original.  It's amazing; I spent 6 weeks off work right after she was born, yet I accomplished so little on our new house.  Before Shelby was born, I had envisioned being able to complete so much during my break from work... but the truth is, I just relaxed and hung out with my daughter.
After I returned to work, I slowly started working on the house in the evenings, but not fast enough.  I had always intended to build the gate on the side of our house where I removed the fence to install the RV slip, but never quite got around to it.
Sadly, a short time ago, our dogs left the back yard (through the not-yet-built RV gate) when Kelly was distracted by the baby crying... and got into a fight with a neighbors dog -- and the owner (and her adult Down's Syndrome son) freaked and were scared and ran away and claimed they were afraid the dogs were going to kill them.  Unfortunately, the neighbor's attitude-stricken 5-lb dog died, and our dogs were blamed -- even though it happened on our property, but we did not see it.  Tragically, we had to have our dogs put down, despite the fact that it seems they were technically defending our property (they had become very protective since the baby was born).  Her dog picked the fight, but ours won.  Because we live just blocks from an elementary school, had anything ever happened in the future (dogs bit a kid), we would be massively liable because our dogs were already, though unfairly, labelled "terrors".  It was truely a sad day for our whole neighborhood.  I continue to kick myself for not having finished building the RV gate earlier.  I've had Tasha for over 10 years and Jake for over 8, and they've been at Kelly's feet non-stop for over 4 months since the baby was born.  The house is just so empty without them.
At this point, it will be a long time before we can heal enough to get another dog.
July 3rd...
Our daughter, Shelby Ashlynn Graham, was born last night - July 2nd at 11:18pm (Pacific Time) at UC Davis Medical Center in Sacramento, CA.  She was 7lb 1oz (3.210 kg), and 18.5" long.  Mother and daughter are both doing fine.  I will be creating a better photo album shortly (I am about to return to the hospital - they should be able to come home tomorrow) - but meanwhile click below for a quick page about her with a few pictures.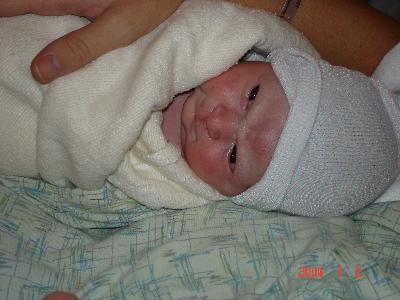 June 6th...
Well, thanks to Murphy's Law, the two biggest things that are going on in our lives are both scheduled to happen at about the same time!  Kelly is pregnant with our first child (due June 27th), and our new house is now supposed to be completed June 18th.
However, is there a potential disaster?  Will I have to get rough & stubborn with the builder?  Check out the house page for more information...
Update - June 6:

Our house is due to be completed June 18!  I've added a few new pictures to show the interior and yard...

Click here or on the left to learn about our new house

I'm going to be a little girl!!!

Click here or on the left for more baby info!

Click here to see the pets that have accompanied us through our lives.

 

 

 

 

We were married on Saturday August 14, 1999 in Kelly's parents' backyard in Fresno, California.

Click on the left for our photo album...

 
 
Updated Oct 18, 2004